The Harding Trust 
Piano Masters Series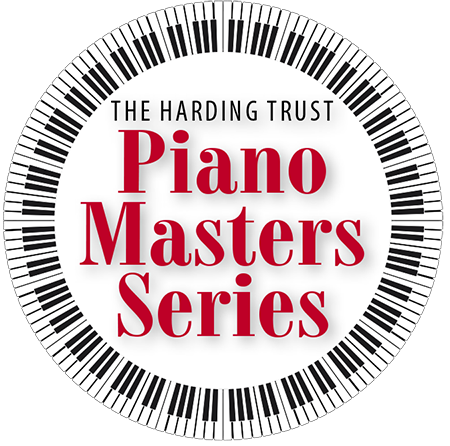 TICKETS FROM
Music Mania: 01782 206000
3-6 Piccadilly Arcade • Hanley • Stoke-on-Trent
Also available online: musicmaniauk.com
STOKE-ON-TRENT REPERTORY THEATRE
Leek Road • Stoke-on-Trent • ST4 2TR
Four Recital Series Season Tickets
ONLY £90
No booking fees are applicable.
However, a £5.00 administration/postage fee is charged.
SEASON TICKET BENEFITS
Save £19 on the full ticket price
Enjoy complimentary wine, coffee/tea/fruit juice
Free season's programme
Free car parking
Choose the best seats available – guaranteed for the series
Single Recital Tickets…£27
(subject to booking fee)
Price includes a complimentary programme and interval wine or coffee/tea/fruit juice.
It was wonderful to see our subscribers return in such numbers to our concerts and recitals last season. Truly an awakening from the dark days of Covid! Thank you all for your ongoing support which is so vital in sustaining our charitable arts organisation.
I am delighted therefore to announce another full series of eight orchestral concerts at the Victoria Hall.  The BBC PHILHARMONIC and the HALLÉ will be joined by the ROYAL LIVERPOOL PHILHARMONIC ORCHESTRA.  Celebrity Cellist SHEKU KANNEH-MASON, sensational saxophonist JESS GILLAM and the wonderful violinist KAREN GOMYO make their debuts. They are joined by the ever popular pianists, STEVEN OSBORNE and MARTIN ROSCOE … just some of the highly acclaimed soloists who will be appearing.
Amongst the conductors taking the baton next season are KRISTIINA POSKA and from New York ANNA HANDLER.  BBC Philharmonic Chief Conductor, JOHN STORGÅRDS, BEN GERNON, JULIAN RACHLIN and ANDREW MANZE are also programmed.
In the four recital Piano Masters Series at Stoke-on-Trent Repertory Theatre, another outstanding array of musicians have been scheduled. Previously one of our 'Rising Stars' and now firmly established on the world stage, PAVEL KOLESNIKOV will be joined by a new 'Rising Star' IYAD SUGHAYER, a pianist chosen as 'one to watch' by International Piano Magazine. World renowned, PAUL LEWIS returns to our series and MARTIN JAMES BARTLETT comes back by popular demand. Martin will also hold a Masterclass with young budding pianists on the morning after his recital, Friday 10th May, which will be free of charge.
One of the world's finest and most popular classical guitarists,
MILOS, heads a list of one-off concerts, and will be appearing at the Mitchell Arts Centre (MAC) in October. Several more events will be announced over the summer.
I look forward to welcoming you back to our concerts in the Autumn and in the meantime, I hope that you have an enjoyable summer.
Mike Lloyd
Mike Lloyd OBE, Managing Director